Practitioner Diploma in Clinical Hypnotherapy
Become a qualified and confident hypnotherapist.
Practitioner Diploma in Clinical Hypnotherapy
Become a qualified and confident hypnotherapist.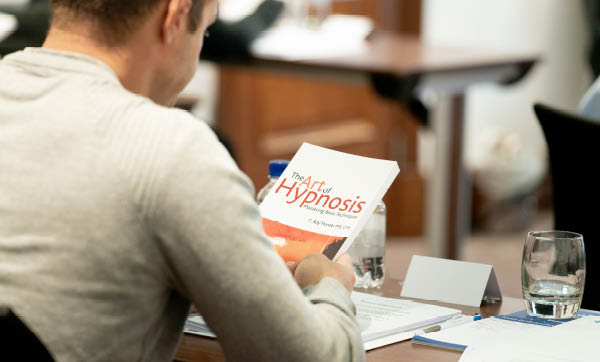 The Practitioner Diploma by LCCH International
The Practitioner Diploma in Clinical Hypnotherapy by LCCH International is one of the leading hypnotherapy qualifications in the UK. Upon completion, you will graduate as a qualified and skilful hypnotherapist with a thorough understanding of ethical and effective practice.
You will learn from an experienced and passionate team who are committed to providing personalised, approachable support. After earning your qualification, the support continues with an exclusive Alumni community and career development opportunities.
At LCCH International, we are committed to ethical and professional practice. We embed these values in our teaching and strive to offer every student the chance to learn, grow and create the future they want in a supportive environment.
Course starts
London – April 2024
Earlybird Offer
10% discount if booked 4 weeks in advance

About the Practitioner Diploma in Clinical Hypnotherapy
To help our students become effective, knowledgeable therapists with a comprehensive understanding of common presenting symptoms. Our course is designed to offer a well-rounded, ethical and practical hypnotherapy education.
Get the best of both worlds with our hybrid course. Study from home with live-streamed lectures or attend in-person classes in London, all with expert guidance. Achieve your goals like never before!
The course content is comprehensive, ranging from foundational hypnotherapy theory to therapeutic approaches and implementation. Focus topics include weight management, phobias, insomnia, and smoking. Download course syllabus.
"Our hybrid diploma course offers live-streamed classes and in-person training, giving you the flexibility to participate from anywhere with an internet connection. You can engage in real-time discussions with instructors and classmates, while also building hands-on experience and personal connections in regular in-person classes. This provides you with a high-quality educational experience that balances your studies with other commitments."
Upon course completion, students can apply for membership with the Complementary Natural Healthcare Council, as LCCH International's course meets all applicable requirements.
Whether you are seeking to launch a career as a practising hypnotherapist or simply want to learn about hypnosis, this course is for you. We teach students from all professions, backgrounds and career stages. To enrol in the course, you must be over 18 years of age, not have a medical condition that inhibits you from course completion and must meet English language requirements as assessed by our team.
The course costs: £2800 (incl. VAT)
Deposit: £700 (incl. VAT) (payable on booking)
Weekend 1: £700 (incl. VAT)
Weekend 4: £700 (incl. VAT)
Weekend 8: £700 (incl. VAT)
Examination fee: £195 (incl. VAT) (payable on the day of your examination).
Tutorial fees: £30 per student per hour (payable directly to your tutor).
Professional Indemnity Insurance fees may also apply, and it is the responsibility of each student to ensure they are covered. You will also be required to join a professional body upon completion to validate your qualification.
Start your Hypnotherapy journey with our live-streamed, globally accessible and in-person hybrid course.
The information (including fees) on this site is accurate at the time publication, but amendments may be made from time to time without notice, both in relation to individual courses and the facilities or services available from, or provided by, the College. Course fees are fully inclusive of all course materials. A minimum number of students is required for enrolment for any of our courses to run. The College reserves the right to withdraw or change a class, course or programme, if there is significant reduction in attendance. Fees paid, either in full or in part, are not refundable unless the course is cancelled. However, should you not be accepted to attend the Course, your deposit will be refunded in full. Required tutorial fees are paid directly to your tutor. These conditions do not affect your statutory rights.
Become a qualified hypnotherapist with the Practitioner Diploma in Clinical Hypnotherapy.
I attained my Practitioner Diploma in Clinical Hypnotherapy with LCCH International. I am currently successfully building my practice through word-of-mouth and have assisted patients with a variety of conditions including smoking cessation, tinnitus, insomnia, work stress, unfocused anxiety and weight management.
Chris Catchpole
PDCH
It was beneficial having so many different lecturers and tutors, from a variety of academic backgrounds and careers, each with their different styles of practice and I find myself incorporating different aspects of what I learnt from each of them, in my own practice.
Karena Westergaard
BA, PDCH, BSCH (ASSOC)
The training I received through LCCH International has given me the ability and confidence to help a steady stream of clients presenting with a range of fascinating and interesting challenges. I have found that my knowledge and experience in NLP complements clinical hypnotherapy.
Jim Canning
PDCH
My latest endeavour has been to train as a hypnotherapist through LCCH International. I found the training stimulating and challenging, and particularly beneficial in personal development. It was very well taught and I felt supported and encouraged throughout the course. It was also terrific fun!
Fiona Biggar
PDCH
After the course, I found that I was able to help a significant number of individuals due to the wide range of problems I was trained to treat. The techniques I learned at LCCH International are also greatly beneficial for self-help and personal development.
Scott Oxlade
PDCH
I was impressed with the ethical element of this year-long course with weekends of practical training. I felt that it was able to give me the depth of knowledge, I would need to practice hypnotherapy safely and effectively.
Watch the video testimonial here
.
Tracey Hugill
Registered Dietician
Want to learn more?
Download a Course Prospectus