Medical Diploma in Clinical Hypnotherapy
Add hypnosis to your therapeutic toolkit
Medical Diploma in Clinical Hypnotherapy
Add hypnosis to your therapeutic toolkit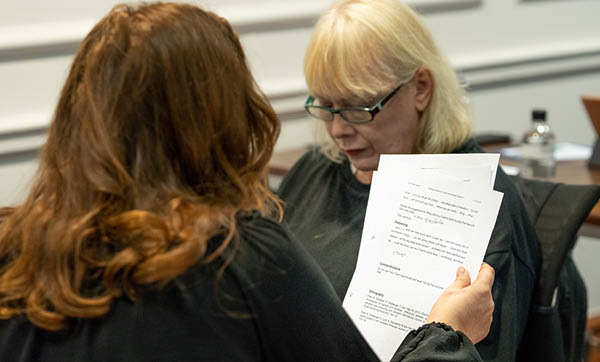 Practical hypnotherapy training for health professionals
The Medical Diploma of Clinical Hypnotherapy is designed for medical and allied-health professionals seeking to expand their knowledge of hypnosis and complementary medicine. It is ideal for curious and ambitious practitioners that want to become well-rounded therapists and improve clinical outcomes for their patients.
When you study the Medical Diploma in Clinical Hypnotherapy, you will explore how to apply analytical, cognitive, behavioural and goal-directed hypnotherapeutic approaches. The course will give you the skills to incorporate hypnosis into your current role or launch a new career.
Course starts
New dates to follow
Earlybird Offer
10% discount if booked 4 weeks in advance
To provide a comprehensive hypnotherapy training for current medical professionals, helping them to expand and enhance their therapeutic skills.
The course is designed to complement your past training. Upon completion, you will gain understanding on the following:
Deepening your insight into your patients' problems.
How to use hypnotherapy to enhance the cost effectiveness of treatments.
How to provide a non-invasive option for patients who might be experiencing unpleasant side effects from prescribed drug treatments.
The Medical Diploma is completed over eight intermittent weekends and includes face-to-face classes, independent study and personal tutorials if requested. You will be given a detailed workbook and a collection of digital resources to enrich your learning experience. The e-learning environment allows students to discuss topics, ask questions and interact with their lecturers.
The Medical Diploma involves a two-part assessment. The first component is a practical assessment where you will be required to demonstrate an induction and a deepener, followed by an ego-boosting and safe awakening. You will also be assessed on your ability to provide a protocol for the treatment of a given condition.
Secondly, you will submit a written assessment exploring the protocol for a specified condition. You must include relevant and current research to support your work and provide a rationale for the proposed treatment. This report is due within a month of completing your course.
The Medical Diploma in Clinical Hypnotherapy is available to healthcare and medical professionals who have obtained a BSc (Hons) or equivalent in their respective profession. This includes medical doctors, dentists, nurses, osteopaths, paramedics, chiropractors, clinical or health psychologists and physiotherapists.
The course costs: £2400 (inc VAT)
Deposit: £800 (inc VAT) (payable on booking)
Weekend 1: £800 (inc VAT)
Weekend 4: £800 (inc VAT)
Examination fee: £195 (inc VAT) (payable on the day of your examination)
Tutorial fees: £30 per student per hour (payable directly to your tutor)
Start your Hypnotherapy journey with our live-streamed, globally accessible and in-person hybrid course.
The information (including fees) on this site is accurate at the time publication, but amendments may be made from time to time without notice, both in relation to individual courses and the facilities or services available from, or provided by, the College. Course fees are fully inclusive of all course materials. A minimum number of students is required for enrolment for any of our courses to run. The College reserves the right to withdraw or change a class, course or programme, if there is significant reduction in attendance. Fees paid, either in full or in part, are not refundable unless the course is cancelled. However, should you not be accepted to attend the Course, your deposit will be refunded in full. Required tutorial fees are paid directly to your tutor. These conditions do not affect your statutory rights.
Apply to study the Medical Diploma in Clinical Hypnotherapy with LCCH International.
I attained my Practitioner Diploma in Clinical Hypnotherapy with LCCH International. I am currently successfully building my practice through word-of-mouth and have assisted patients with a variety of conditions including smoking cessation, tinnitus, insomnia, work stress, unfocused anxiety and weight management.
Chris Catchpole
PDCH
It was beneficial having so many different lecturers and tutors, from a variety of academic backgrounds and careers, each with their different styles of practice and I find myself incorporating different aspects of what I learnt from each of them, in my own practice.
Karena Westergaard
BA, PDCH, BSCH (ASSOC)
The training I received through LCCH International has given me the ability and confidence to help a steady stream of clients presenting with a range of fascinating and interesting challenges. I have found that my knowledge and experience in NLP complements clinical hypnotherapy.
Jim Canning
PDCH
My latest endeavour has been to train as a hypnotherapist through LCCH International. I found the training stimulating and challenging, and particularly beneficial in personal development. It was very well taught and I felt supported and encouraged throughout the course. It was also terrific fun!
Fiona Biggar
PDCH
After the course, I found that I was able to help a significant number of individuals due to the wide range of problems I was trained to treat. The techniques I learned at LCCH International are also greatly beneficial for self-help and personal development.
Scott Oxlade
PDCH
I was impressed with the ethical element of this year-long course with weekends of practical training. I felt that it was able to give me the depth of knowledge, I would need to practice hypnotherapy safely and effectively.
Watch the video testimonial here
.
Tracey Hugill
Registered Dietician
Want to learn more?
Download a Course Prospectus