The Drink Less Method Masterclass (2777) - (Via Zoom) July 2022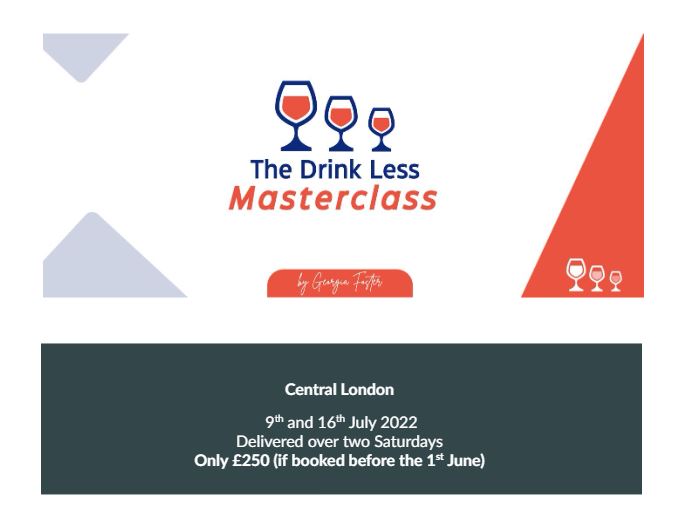 We are pleased to introduce you to Georgia Foster, who studied at LCCH in 1998, went on to teach for the college, and has now built a highly successful private practice.
Georgia's Monument clinic in EC3 and Chiswick W4 had clients coming to see her for various issues, such as stress, insomnia and anxiety, for over 18 years. There was one health concern common to some of these clients: excessive drinking. These clients did not wish to quit, but rather wanted to drink less.
It is Georgia's belief that most people are not alcoholics, but rather suffer from ECDS (Emotionally Conditioned Drinkers Syndrome). As a result, with the right hypnotic resources, these clients can successfully reduce their alcohol consumption without quitting.
Georgia highlights that her practice consisted of homemakers, lawyers, creatives, bankers, etc., who are highly functioning and hard-working citizens of society! They just happen to use alcohol as an emotional crutch.
Georgia's unique method of alcohol reduction has been receiving media attention regularly due to her strong motto…
'It's the thinking before the drinking that is the problem!'
Her method and results have been featured in The Times Newspaper, The Guardian, Psychologies Magazine, GMTV and Sky News, just to name a few.
The LCCH has some wonderful news today for qualified students. Georgia's new 'Drink Less Mind' practitioner training is being launched live, and she has invited the LCCHI to be first in line in the UK.
We are pleased to announce Georgia has agreed to host her masterclass as a one-off, on Saturday 9th & 16th July, 9.30am-1.30pm.
This Masterclass will be held online, which is great news. This first-time opportunity will be offered virtually via Zoom, which means no travel will be required.
Additionally, the entire training will be available at any time via your own secure membership portal, so if you missed anything, don't worry, you can log in and review it after the session. Even if you can't make it live, you won't miss a thing.
The following is Georgia's Drink Less Training Outline:
Participants of this masterclass will learn how to create a thriving client base for people seeking healthier non-drinking coping strategies that promote self-esteem and emotional wellbeing.
The course consists of six modules, each of which will be delivered over two Saturdays in July, equivalent to a full-day training in person, with Q&A included.
In the event you miss anything, you will be able to access all content in the members' area after the sessions with Georgia. 
As a practitioner, you will achieve:
It is a highly successful way to help men and women discover how to drink less and has been tested and proven over the last 25 years in Georgia's clinics in London, UK and Melbourne, Australia.
This is what you can expect from your time with Georgia in her own words…
The reasons why people drink

Why are the over 45's are your target audience

Whom can you help?

Those who appear to be ready to quit but are capable of reduction

Who does need to quit

Why empathy is essential when dealing with this very private issue
The Drink Less Mind training is normally £499, but Georgia is offering this masterclass exclusively to LCCH practitioners for only £299.
While the training is primarily designed for alcohol reduction, these methods can be adapted to other circumstances that you will encounter in your work. This method is a great quick way to get results, which means more referrals and more £££'s! 
If you are unable to attend one of the training sessions live, you will still receive all content for you to utilize as soon as you are ready. So, don't miss this opportunity by applying now. 
Week 1:  Saturday – 9th July 2022
Week 2: Saturday – 16th July 2022
Fees:  £299
A certificate will be issued at the end of the course. 
This course represents 6 hours of verifiable CPD (Continuing Professional Development). 
 Please note this Masterclass is for qualified hypnotherapists
Course dates
Saturday 9th & 16th July 2022
Registration
Online Via Zoom