Certificate In Hypnobirthing - September 2022
| Weekend | Dates |
| --- | --- |
| 1 | Saturday 3rd & Sunday 4th September 2022 |
| 2 | Saturday 8th & Sunday 9th October 2022 |
This hypnobirthing course is open to professionals that support women in their journey into motherhood. If you are a hypnotherapist, midwife, doula, urogynaecology physiotherapist, or yoga teacher and would like to expand your knowledge with tools and techniques allowing you to provide more personalized care, then the course is for you.
Hypnobirthing aims to help women deal with any fear or anxiety they might have around birth. It involves learning calm breathing techniques, deep relaxation, guided meditation, visualization, positive suggestions, and affirmations, all aiming to relax the mind and body before and during birth.
The idea is that when the body and mind are in a completely relaxed state and working together (not against each other), birth can be more peaceful both for the mother and the baby because the body doesn't fight the natural process.
WHY IS IT IMPORTANT FOR EXPECTANT WOMEN TO LEARN HYPNOBIRTHING?
Research had confirmed this method is effective in support of hypnobirthing. Some of the benefits are:
Labour can be shorter

There is less need for intervention

Expectant mothers learn how to manage pain naturally

Babies have a chance to be born healthier – APGAR* scores may be higher among babies born using hypnobirthing techniques

Women who have experienced trauma recover quicker and find more peace

It can help women feel more confident with themselves and their ability to go through labour, feeling in control, resulting in a more positive birthing experience

Anxiety and fears related to pregnancy and childbirth are reduced, which in turn can lead to lower perceptions of pain during labour

It can promote positive mental health and self-confidence after birth

NICE (https://www.nice.org.uk/guidance/cg190/evidence/full-guideline-pdf-248734770 states that women who choose to use hypnosis during childbirth should be supported in doing so.
By attending the course, you will learn all the fundamental principles this method has to offer which include being able to teach breathing exercises, visualisations, affirmations, and pain management. In addition, you will learn:
How to support women who chose to hypnobirthing

How to run a hypnobirthing course for expectant women

How to prepare birthing partners for their role

How to create the atmosphere ideal for the birth of the baby to progress naturally

How to safely conduct hypnosis sessions

How to create own scripts and suggestions

and more….
More importantly, you will gain skills and understanding that will help you feel confident in supporting women regardless of the choice of birth they have and regardless of the special circumstances that might occur during birth.
The course will take place over two weekends and will cover theory and practice.
* Appearance (skin color) Pulse (heart rate) Grimace response (reflexes) Activity (muscle tone) Respiration (breathing rate and effort)
For further details:
Call us now on: 020 3603 8535
or email us on: [email protected]
About Kaja
Kaja`s passion for hypnobirthing has led her to conduct her research. She obtained her Master's Degree (MSc) in Clinical Hypnotherapy at the University of West London where she submitted a dissertation to the College of Nursing, Midwifery, and Healthcare. Her research was the investigation on:
"What influence on confidence, if any, occurs as a result of pregnant women attending a hypnobirthing course?"
Years of her research have led Kaja to gain insight into what was missing from available hypnobirthing courses.
She now shares her conclusions and main findings with birthing professionals.
Kaja is a certified KG Hypnobirthing instructor.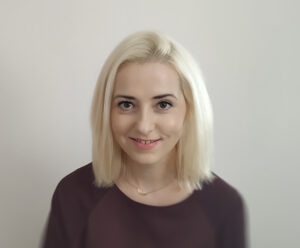 Course dates
Saturday 3rd & Sunday 4th September 2022
Deposit
£245 and balance on the first weekend